Worker safety has never been more critical than it is today. Like many other areas of the hospitality business, the concept of safety has changed in light of the novel coronavirus, with hotel managers and associates genuinely concerned that their job sites are safe, making COVID-safe hotels.
The hospitality industry had been hard at work to improve worker safety before the pandemic. Now it's time to build on pre-coronavirus trends to create a better environment for all guests and hotel employees.
As the hospitality sector opens up, it will need to guarantee a safer environment for concerned guests or attendees. Suppose hotels and conference centres keep a safe environment at the forefront of their minds, staff, guests, businesses. In that case, conference attendees will place more trust in these locations, and more revenue will arrive.
One obvious solution to ensuring a safe environment is to adopt the use of COVID-safe hotel technology.
From food and beverage, health and safety protocols to meetings and events, how hospitality invests in technology will significantly impact their corporate revenue in the coming months.
Since the pandemic exploded, technology has shifted from the remote and virtual (video conferencing, live streaming) to the individual (vaccines and wearable tech) – and this trend will only continue in the future.
To shift from virtual events to hybrid ones and now to face-to-face meetings, hospitality will need to combine technologies that facilitate face-to-face contact whilst still increasing guest safety.
A new rise in COVID-safe hotel technology
In-person meetings and events are slowly returning to hospitality.
However, it's likely that people still feel apprehensive about both travelling to conference events and actually attending in-person – even with the usual safety measures in place- masks and hand sanitisers upon entry, and keeping your distance to 2 metres.
At first virtual events were the solution, where Zoom calls were the answer to having hundreds of people online speaking about a product or business. Then companies and organisations moved to hybrid events – where speakers present to a small audience in presence, keeping the 2-metre distance at all times with the conference being live-streamed. Despite the best events of all concerned, it never became fully adopted. Business is done better when face to face.
So, what technology is the hospitality sector adopting to accommodate in-person event needs?
The easiest way to ensure that every employee, guest and conference attendee is protected is to provide them with their device so that no matter where they go or interact with at an event or as a hotel guest, they will not infect or be infected.
Hotels such as the Nordic Hotel Forum in Estonia's capital and the biggest startup hybrid event in the Baltics held in Tartu use Respirary wearable air purifiers to protect their guests and attendees and ensure business discussions can continue without wearing masks.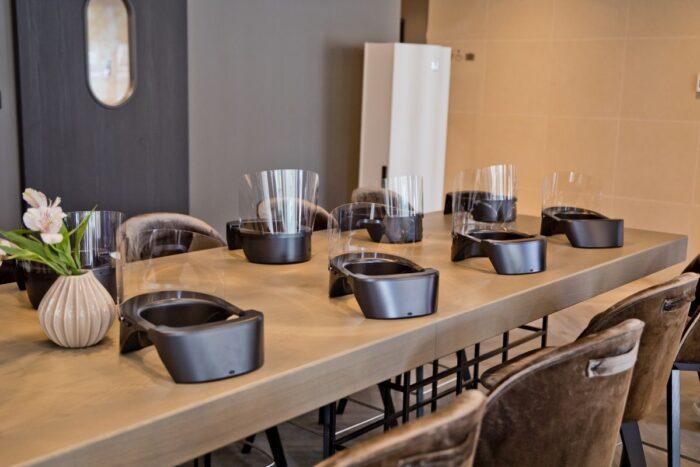 Respiray uses trusted UV technology to protect wearers against respiratory illnesses. The wearable UV air purifier disinfects the air wearers breathe and inactivates 99.99% of bacteria and viruses with invisible UV-C light.
The UV air purifier takes in unfiltered air, passes it through its UV disinfection module, and exhales virus-free air to the front of the wearer's face. The device purifies up to 55 litres of air per minute, up to 4x more than an average resting human breathes.
Respiray can be used in crowded indoor environments, including conference centres, networking events, offices, and COVID-safe hotels (such as Nordic Hotel Forum which is Estonia's Corona-Safest Hotel), where communication is critical. Respiray is used by every business that wants to protect its staff, guests, and attendees, particularly those working in busy or enclosed spaces.
Portable cleanliness technology
Although thorough sanitisation and cleanliness are now expected standards at COVID-safe hotels and conference events, now it is more critical that hospitality establishments increase their efforts.
Hotel technology, including robotics, wearable tech and automation, are a few solutions to guarantee guest safety and alleviate pressure on staff who may have fears about returning to work.
Guests and hotels can supply one technological solution is the portable CleanseBot which travellers can pack in their suitcase. This hockey puck-size device can be put in between bed sheets using UV-C light and kills 99.99% of germs, bacteria and dust mites lurking there within a matter of minutes.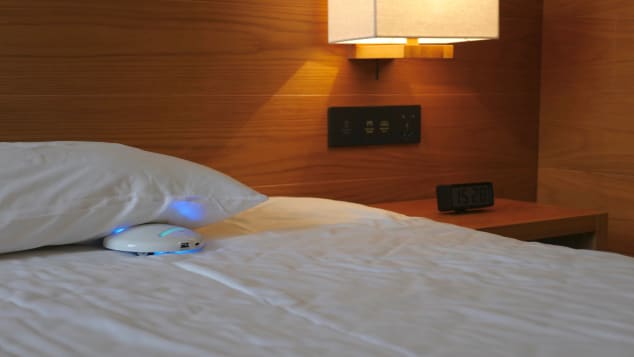 Germ-killing robots
Germ-killing robots are devices like LightStrike Germ-Zapping robots from Xenex that are wheeled into hotel rooms by staff. It emits high-intensity UV light to disinfect rooms.
A self-driving vacuum sweeper known as Whiz from Softbank Robotics is also being used to offload mundane tasks from cleaning staff so they can focus on areas that the robots cannot reach. Much like home cleaning robots, these can be programmed to clean large spaces frequently throughout the day.
Other solutions from Xenex use UV-C LEDs in handheld devices to sanitise areas, much like the LED technology used in Respiray's wearable UV air purifier.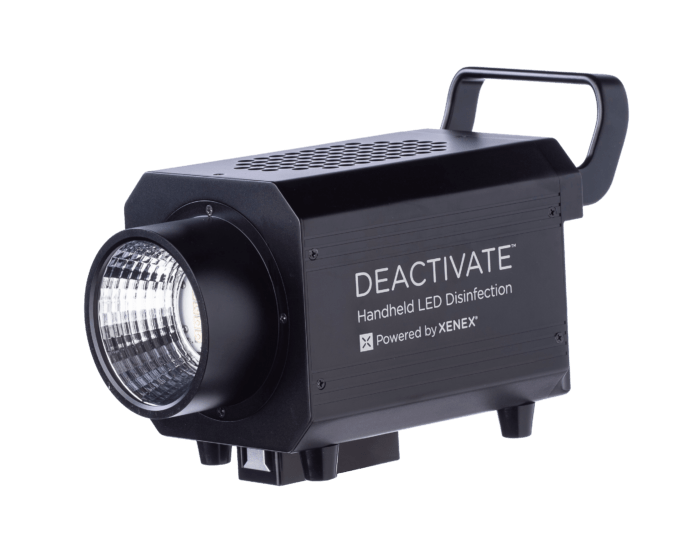 Self-cleaning technology
Some COVID-safe hotels like the Hotel Ottilia in Copenhagen have been using ACT CleanCoat to keep their customers safe by making each room 'self-disinfect' itself each morning. An odourless and transparent substance is released that breaks down airborne spores and pathogens, including viruses and bacteria.
Digital keys
Automation is a popular solution today with various health concerns over fears of touching dirty surfaces.
It's why the Hilton Hotel Chain developed an called the Hilton Digital Key that allows guests to check-in and open doors from their smartphones, removing the need for a key card that can transmit viruses and bacteria between staff and hotel guests.
Upgrading HVAC systems – sanitising air within hotels
The European Centre for Disease Prevention and Control says insufficient ventilation in enclosed indoor spaces, like workplaces, restaurants, hotels and conference events, is associated with increased transmissions of respiratory infections.
Heating, ventilation and air-conditioning (HVAC) systems in public settings could facilitate the spread of COVID-19 droplets as they recirculate air with these virus particles around the air streams.
Modern HVAC systems in COVID-safe hotels, restaurants and other commercial venues use localised air purifiers to sanitise the recirculating air to prevent air streams from spreading droplets. To ensure air quality is maintained, monitors like Genano are being used at Estonian hotels so guests and staff can view air quality in real-time.
COVID-safe hotels and conference centres investing in technology
Hotel ventilation and other technical systems need to be completely rebuilt to meet the requirements of the post-virus world.
Using anti-virus equipment around hotels can remove bacteria and viruses from enclosed areas and monitor air quality. Self-cleaning technology continually ensures that no bacteria and viruses remain on surface areas and in rooms.
Plus, using cleaning robots can take the strain of hotels' reduced staff due to self-isolation, thus ensuring hotel operations can continue in light of staff falling sick or not being able to come to work.
Furthermore, hotels should transition to more contactless devices where possible, such as check-in, opening the doors of rooms with a smartphone or device, paying for a hotel bill without contacting the staff, which will reduce transmission rates.
As an additional confidence measure, COVID-safe hotels and conference events should use Respiray portable air purifiers to clean 99%* of the inhaled air with UV-C technology that directly cleans the air to the mouth and nose areas. Thus, when staff, guests and attendees move around enclosed spaces, they will be protected at all times.
* * Please note: Respiray's air purifier is not a medical-grade Personal Protective Equipment (PPE), and in circumstances where medical-grade Personal Protective Equipment is recommended, you should consult a health care professional. Please remember that the use of our wearable air purifier does not replace the recommended measures to stop the spread of COVID-19. Follow the latest guidelines and rules of your local authorities and health care professionals.