Over two years into the pandemic, we may say that the restaurant industry has been changed forever by COVID-19, with new customer behaviours left in its wake.
The pandemic has propelled the restaurant industry to develop new, creative ways to serve customers, from online ordering and virus-proof home delivery to safe dining at the premises.
Since the beginning of the pandemic, social distancing has been the primary measure of decreasing the rapid transmission of COVID-19. It has been proved that the risk of infection increases in crowded spaces, mainly if face coverings are inconsistently or improperly worn, and in indoor environments where ventilation with outside air is inadequate.
One example of such spaces is restaurants.
If watching a theatre play with a face mask is uncomfortable, eating a meal with a face covering is impossible unless we use a protective measure that leaves the face uncovered.
The Implausible blog took Respiray's wearable air purifiers out for lunch at the fabulous Coworth Park on the elegant outskirts of London to see how they fare in the real world. This article summarises their feedback, and we have included their video below. 
Dining out after COVID-19 changed the world
Who hasn't heard the didactic quote, "You don't know what you've got until it's gone." COVID-19 revealed the everyday activities many of us took for granted until they were no longer an option – like eating out in a restaurant.
The pandemic has made people more responsible and selective, including dining choices. "When choosing a restaurant for dinner, my first criteria are now ventilation and high ceilings, not just the food," says Indrek Neivelt, the CEO of Respiray.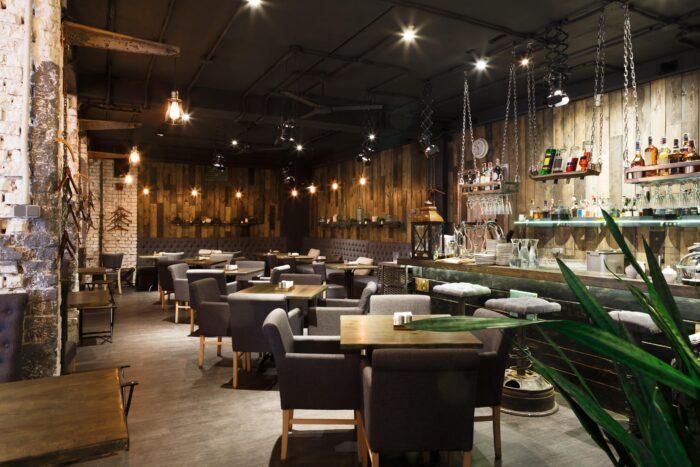 Restaurants have always had to pass health inspections. However, never before has the focus on cleanliness been forcing restaurants to double-down on their efforts as much as now.
As diners are looking for transparency about the cleanliness procedures, restaurants must use clear optics of what they are doing to keep diners safe, explains Blake Morgan, a customer experience futurist on Forbes. Proper safety standards and efficient communication will, without exaggeration, make or break a restaurant, writes Geert Merckaert on Apicbase, a complete F&B management platform for multi-unit restaurants, ghost kitchens and hotels.
In fact, 3 in 4 diners cite health and safety concerns as the most significant deterrent to dining out again, far outweighing financial reasons, as per Zagat's Future of Dining Study.
The same goes for people's expectations of a post-pandemic office setup. The working areas in modern offices with high ceilings and good ventilation systems are relatively safe. The more enclosed environments, such as meeting rooms, common areas and kitchens where people interact the most, need to be re-designed and adequately equipped.
As with most other industries, technology is believed to play a crucial part in the future-proof restaurant. To fit in with new customer trends, restaurants will need to invest in modern technology. It can come in electronic menus, contactless payment solutions, or self-order kiosks.
However, all these measures focus on making the order process safer while paying no attention to the on-site food experience.
Immediate protection without covering your face and emotions
The Implausible Blog describes Respiray as a wearable UV air purifier that zaps 99% of viruses and bacteria. Unlike traditional masks covering the face, Respiray sucks in air from underneath, zaps it, and then propels it out the top so you breathe in clean air.
The representatives of the famous blog admit they got a few looks while wearing the new trendy neckpiece but felt that they were much safer and enjoyed the meal more, so it was worth it.
A significant advantage of Repiray's wearable air purifier, especially when it comes to dining, is the immediate protection against respiratory viruses without covering your face and emotions.
You can breathe, smile and speak freely while enjoying a delicious meal with friends – and strangers at the next table. Should you still feel under-protected while chatting the night away, you can attach a face shield for extra protection once you have finished eating.
Another good thing brought up by the Implausible Blog's dining crew is that Respiray needs no software update, which has been an issue with other face masks running on smart technology.
The device is effortless to put on and turn on – just one simple click. The adjustable shoulder straps make it easy to adjust the device to sit comfortably on your shoulders.
On the downside, the device still feels a little bulky. While the advancements in technology will hopefully make it smaller one day, the size of the current device accommodates a Li-ion battery that provides up to 8 hours on a single charge. That should be enough for a night out!
Restaurant dining will not be the same again
COVID-19 has turned the world upside down. Almost every aspect of our lives has been affected. Restaurant dining is no exception – it will never be the same again.
The restaurant of the future stays in tune with what matters most to its customers. It continues to offer the highest quality food experiences.
Social distancing, handwashing stations, contactless ordering and payment solutions have become part of the norm among most service providers.
However, the air quality technology is just as essential and the ability to guarantee a purified virus-free environment at the restaurant premises. Take-away is still far from offering the same experience as dining on-site.