Protect your health with UV-C technology.
Respiray's wearable UV air purifier disinfects the air you breathe in with invisible UV-C light and inactivates over 99%* of viruses and bacteria in the air.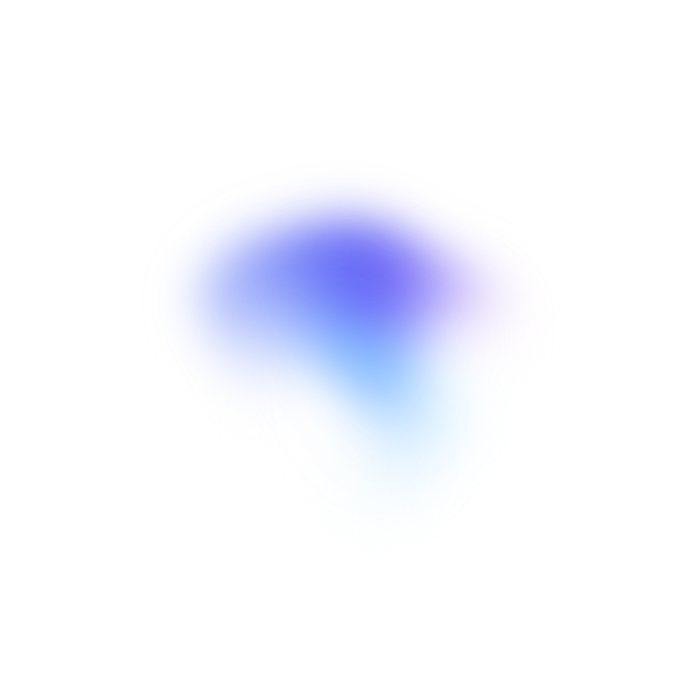 Smile and breathe freely
Respiray doesn't cover your face or mouth, allowing you to breathe, smile and speak freely in public.
Long-lasting battery
The rechargeable Li-ion battery provides up to 8 hours on a single charge and can charge from 0-50% in just an hour and a half.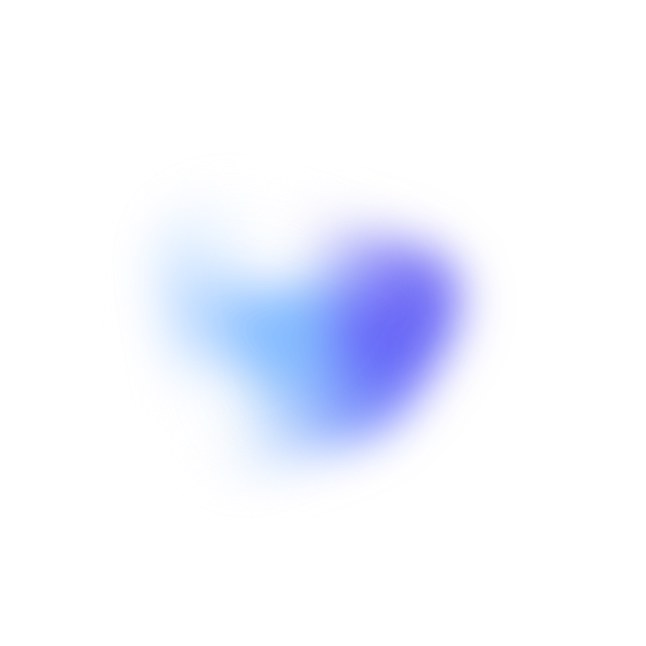 Attachable face shield
In higher-risk situations you can attach a face shield for extra protection against direct coughs and sneezes.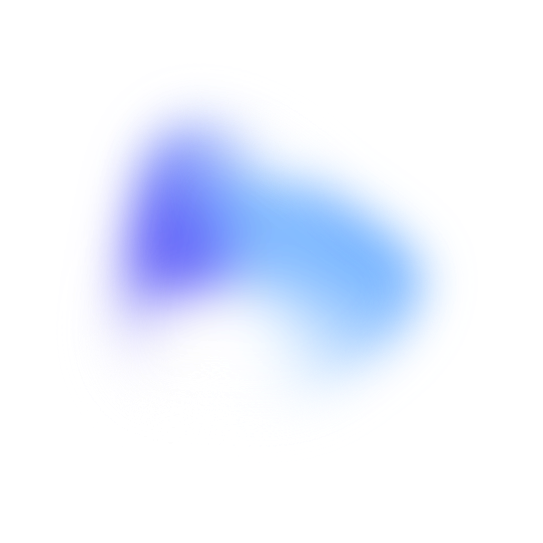 No more foggy glasses
With our air purifier, you don't need to worry about your glasses steaming up and your vision being blocked.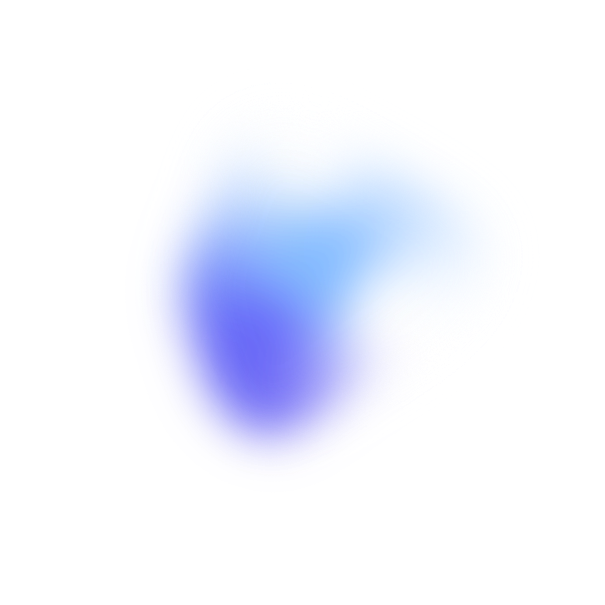 Help the Environment
In 2020, roughly 1.5 billion face masks ended up in our oceans. Let's change that. Our device is reusable and will last for years.
About The Product.
Our wearable UV air purifier creates a clean air zone around the wearer's face. It's a non-medical grade alternative to traditional face masks and it sits comfortably on your shoulders thanks to our ergonomic design. Our wearable air purifier keeps the face and the mouth of the wearer clear to talk and smile freely.
The air purifier takes in unfiltered air, runs it through our patent-pending UV disinfection module, and blows it to the front of the wearer's face. The module purifies over 99%* of breathable air but specific protection levels depend on a wearer's activity and their environment. In response, our device comes with attachable face shields that can be used for extra protection in crowded areas and when moving around.
Quality and Safety.
Our team has over 15 years' experience in UV-C technology and we use only the highest quality Crystal IS Klaran LEDs owned by the world-renowned Asahi Kasei Group.
The LEDs in our device are safe and emit a very narrow range of UV-C light at 265nm, which does not produce ozone. Plus, our device is fully light-sealed, so no UV-C light can escape.
Proudly made in Estonia.
About The Technology.
UV-C light is a reliable and effective way to inactivate bacteria, viruses and other harmful microorganisms. Its germicidal properties have been known for over 100 years, but this is the first time it's been built into a wearable air purifier. UV-C light inactivates bacteria and viruses by making them unable to multiply by damaging their DNA and RNA. With a sufficient UV-C dose, they become harmless to humans.
UV-C is a part of the ultraviolet region of the invisible light spectrum. You may have heard about UV-A and UV-B from reading sunscreen labels. As the Earth's ozone layer blocks almost all incoming UV-C light, close to no bacteria and viruses have developed resistance against it. The peak germicidal effectiveness of UV-C is at 260-265 nm and the LEDs used in our device emit light at 265 nm. This makes the Respiray wearable UV air purifier highly effective against viruses and bacteria.
Specs.
airflow rate
25~55 litres/min
usage time (fully charged)
Up to 8 hours
technology
UV-C disinfection
(LED 265 nm)
weight (net)
450 g
(main unit)
500 g
(battery unit)
operating conditions
0 - 40°C
(temperature)
15% - 90%
(relative humidity)
700 - 1060hPa
(atmospheric pressure)
---
Included in the package.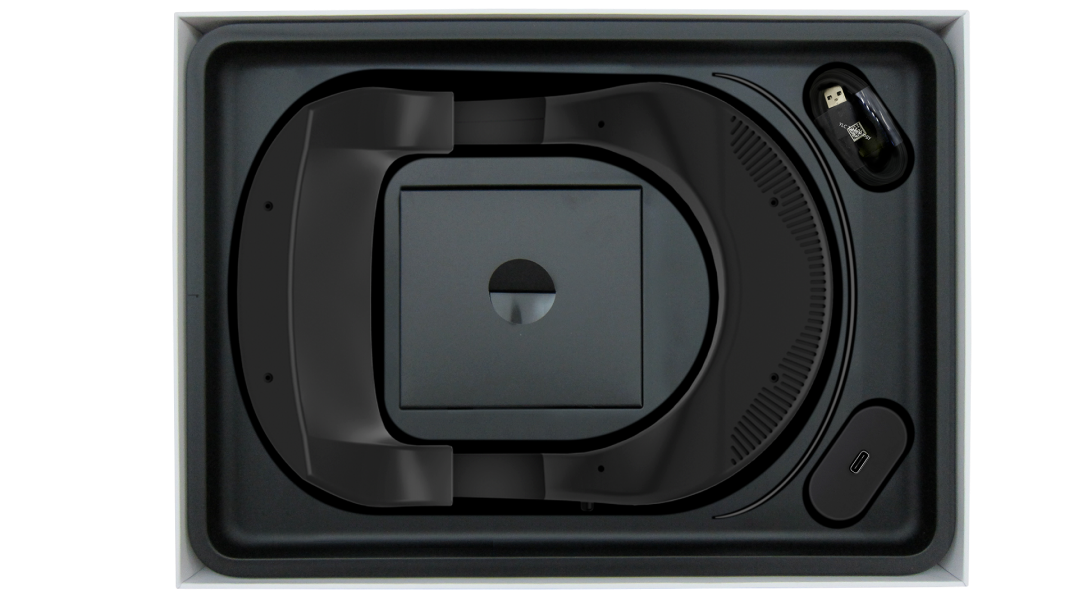 Respiray Wearable UV-C Air Purifier
1x spare filter
Quick start guide & user manual
USB-C charging cable
Attachable face shields
USB-C wall adapter
Please note: The picture is for illustrative purposes only. Respiray has the right to change the contents of the package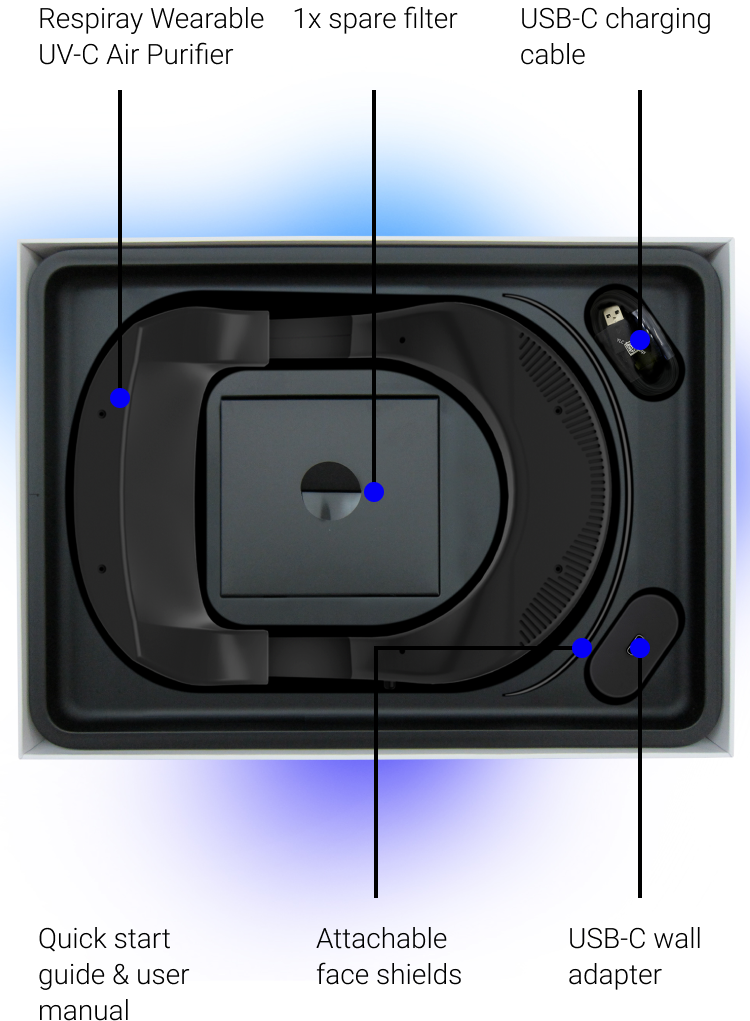 Please note: The picture is for illustrative purposes only. Respiray has the right to change the contents of the package
FAQ
The Respiray wearable air purifier has passed successful tests with alphavirus, that is a similar single-stranded RNA-genome virus to SARS-CoV-2 and both viruses are comparable in size: approximately 70-100 nanometers. There are many studies that show how coronavirus acts similar to other viruses and bacteria that UV-C light successfully inactivates.

A large amount of research has shown that UV-C is extremely effective since it inactivates pathogens in different ways. For example, for all known coronaviruses it has been shown that UV-C breaks the RNA chains rendering the virus unable to reproduce. It also disintegrates the membrane of the coronavirus virion and on top of it all breaks the structure of the famous spike proteins of the coronavirus. UV-C LED manufacturer Crystal IS, whose LEDs our device uses, presents research that demonstrates the effectiveness of germicidal UVC LEDs against SARS-CoV-2.

Another UV-C LED manufacturer has run tests comparing necessary light intensities to inactivate 99.9% pathogens and found that a similar UV-C light dose was needed to inactivate both E. Coli bacteria and SARS-CoV-2 at 265 nm. Further tests have also shown that UV-C light is effective at inactivating SARS-CoV-2 (COVID-19).

The effectiveness of our disinfection module has been independently tested for S. aureus and E. coli bacteria, resulting in around 2.5 and 2.6 log reduction respectively (99.68% and 99.89%) at 30 l/min throughputs. Our device has two of these disinfection modules built-in.
Please note: Respiray's air purifier is not medical-grade Personal Protective Equipment (PPE), and in circumstances where medical-grade Personal Protective Equipment is recommended, you should consult a health care professional. Please remember that the use of our wearable air purifier does not replace the recommended measures to stop the spread of COVID-19. Follow the latest guidelines and rules of your local authorities and health care professionals.
Direct exposure to UV-C light is dangerous to humans. However, in our device, the UV-C light is completely sealed inside the device, so no UV-C light is exposed to humans. We have very serious protective measures in place to ensure the safety of our device including a double UV-C resistant plastic enclosure around the UV-C emitting LED. We have conducted various tests including drop tests to ensure the design is robust and does not break easily.

Our parent company AS LDiamon has over a decade of experience with optics and UV-C, and also meets the standards for an ISO 13485:2016 certificate, meaning they are internationally certified to manufacture and handle medical devices. Additionally, we have added numerous protective measures to ensure the safety of our device.
Absolutely not. While at some wavelengths the energy of UV light is able to produce ozone, this only happens at below 242 nm (Scientific Committee on Health, Environmental and Emerging Risks). The LEDs in our device emit a very narrow range of UV-C light at 265 nm, which will produce no ozone, atomic oxygen or any dangerous radicals. Furthermore, at wavelengths of 242-315 nm, ozone is broken back into oxygen molecules instead, reducing the ambient ozone in the air. We have also thoroughly measured our device with ozone meters to ensure that there are no ozone emissions.
For additional safety, we have carried out ozone tests with a laboratory affiliated with Tartu University and the results showed no indication of ozone production.