Starting in 1997, the Black Nights Film Festival (PÖFF for short) has grown into one of Northern Europe's most prominent film festivals. The festival hosts more than 1,000 guests and industry delegates plus over 160 journalists. The Estonian based festival screens around 250 features and more than 300 shorts and animations and witnesses 80,000 people attend annually.
Each year, PÖFF is organised by excellent collaboration with both partners and over 300 volunteers. 2021 will be the 25th time the festival has been held, and this year, the festival organisers needed more than their excellent volunteers.
With the coronavirus still rampaging through society, the organisers of PÖFF used technology to aid them in keeping the most famous film festival in Estonia open to audiences and attendees worldwide.
What is PÖFF – The Black Nights Film Festival?
In Estonia, the winter nights become very dark. Thus, it is ideal for filling this period with bright film experiences on cinema screens and attracting filmmakers from different corners of the world.
Black Nights Film Festival (Pimedate Ööde Filmifestival, or PÖFF in Estonian) aims to present a selection of world cinema to audiences in Estonia, the Baltic and Northern Europe.
The 25th edition of the Black Nights Film Festival took place from 12th-28th November 2021, in Tallinn, its main establishment, with sidebar screenings in Tartu, Narva, Kohtla-Järve and Jõhvi.
PÖFF is part of the Industry at Tallinn and Baltic Event, the key growing business platform and summit in the region for audiovisual industry professionals held annually in November.
The mission of Industry at Tallinn and Baltic Event is to serve as a gateway for global audiovisual industries from and to the region. Furthermore, the summit aims to establish collaboration in the following industry sectors:
ICT
gaming
mobile
technology
venture capital
Industry at Tallinn and Baltic Event connects professionals in these sectors to VC professionals in the USA, Europe, Asia, Russia and the CIS countries.
The Industry at Tallinn and Baltic Event has grown into one of the region's most significant media industry events.
How did the film festival organisers keep the event running during COVID times?
As per the leading startup event in Estonia, sTARTUp Day, PÖFF turned to technology to safeguard their staff and international guests' health from viruses.
One such company was Respiray, who were thrilled to sponsor this event.
For every film delegation or foreign guest, the PÖFF appointed a volunteer contact person who aided guests to comply with safety requirements.
Guests who presented a COVID certificate received a green mark or free movement mark on their badge, allowing them to move around without restrictions within the Festival.
Guests who have to meet the audience or participate in one-on-one industry meetings or small indoor spaces were equipped with Respiray's wearable air purifiers. 
Respiray's wearable air purifier purifies over 99%* of breathable air, inactivating viruses including flu and the coronavirus. The UV air purifier is used for extra protection in crowded areas and when moving around, as was needed at the Black Nights Film Festival.
"I am very proud that PÖFF has always focused on innovative solutions. We are happy to work with Estonian scientists and entrepreneurs to introduce their innovations in Estonia and worldwide. The Respiray wearable air purifier is one of the most original inventions to protect people against airborne viruses. It was a pure joy to use it during the festival and see how much positive feedback it received from guests worldwide. " – Tiina Lokk.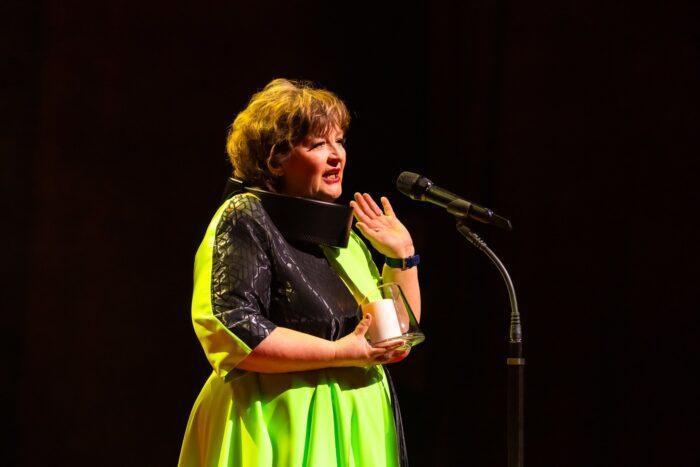 PÖFF winners
The 25th PÖFF festival winners were decided by an international jury of filmmakers from across the globe. The leading awards went to the following films:
The Grand Prix Award went to "Dear Thomas", directed by Andreas Kleinert produced by Till Derenbach and Michael Souvignier.
The Best Director award went to Wojciech Smarzowski for "The Wedding Day."
The Best Actor Award went to Albrecht Schuch for "Dear Thomas."
The Best Actress Award went to Sofia Krugova for "No Looking Back."
The Best Cinematography Award went to DoP Emre Tanyıldız for "The List of Those Who Love Me."
The Best Screenplay award went to Wojciech Smarzowski for "The Wedding Day."
For a full list of the award winners, you can read them all here.
Media festivals can continue to operate if they adopt technology
The COVID-19 pandemic has changed many ways of living around the world. In times of stress, sadness, and world upturning events, nothing beats going to the movies.
The future of film, media and business events is changing, undoubtedly spurred on more rapidly by the pandemic. Conference and event organisers wish to retain face-to-face events. Still, they worry about the health and safety of their attendees and staff.
Nothing quite beats the in-person experience and anticipation of meeting others to further your career or business. But industry events must realise, as PÖFF did, that they must adopt newer technologies to keep them running to survive.
The Respiray team was very pleased to be involved with such an amazing event. Congratulations to Tiina Lokk and her brilliant team for organising such a great event during difficult times.