sTARTUp Day is one of the most startup-minded business festivals, bringing together startups, traditional entrepreneurs, investors, innovators, and students. The event aims to connect like-minded people and celebrate entrepreneurship in the smart city of Tartu, Estonia.
Why Estonia? For decades now, the country has become a magnet for startups and has produced unicorns such as Skype, Wise, Pipedrive, Zego, Bolt and Playtech.
The 2021 three-day festival had a stage programme, hands-on seminars, innovation demo area and side events, including a Veriff's matchmaking area, where Respiray wearable air purifiers with UV were used to safeguard visitors. The inspirational-educational programme consists of various topics – from marketing to space tech, fundraising to the smart city, artificial intelligence to the creative economy.
With over 3,000 attendees from 67 countries globally, how did this leading event organiser protect them all from becoming infected with COVID-19?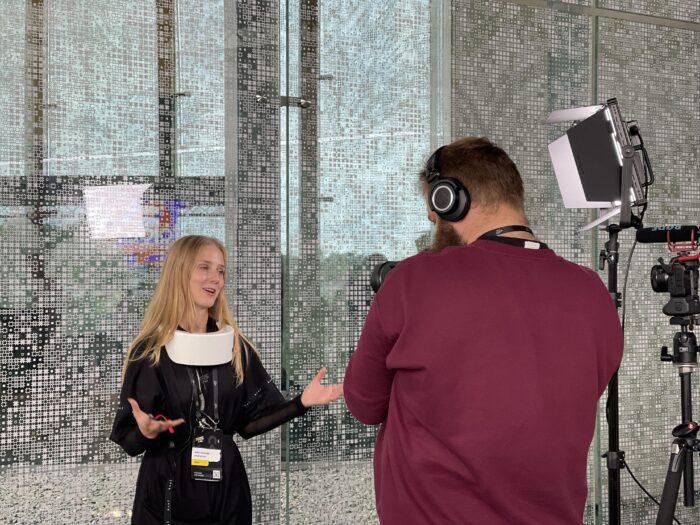 Head Organiser Marili Vihmann said, "We always try to innovate our event, and it was so cool to have an innovation born in Estonia during the pandemic present at the venue. Respiray saved the day by providing the sTARTUp Day team, speakers, and people at the Matchmaking area with their wearable air purifiers. I wore it the whole time because running around with a mask was really hot. We were even afraid that someone would forget that they're wearing Respiray and will accidentally walk home with it!"
Conference speakers at sTARTUp Day
Despite challenging times, many foreign speakers came to Tartu. Silicon Valley expert and freelance writer Adam Fisher travelled from the USA to discuss how Silicon Valley's success became possible and whether it can be repeated.
Plus, experts from three organisations spoke about crisis management – Olavi Lepp, CEO of Swedbank, Evelin Uibokand, Crisis Management Coordinator of the City of Tartu, and Janer Gorohhov, Co-Founder and CPO of Veriff.
Their aim: to collaborate and learn from one another as we all try to figure out what the future holds.
Beating the Virus
Respiray's CEO, Indrek Neivelt, was on the panel "Beating the Virus" with Certific and Icoasagen. Together, they spoke about new hybrid solutions in defeating this pandemic. 
The panel discussed that first, we adopted isolation as the primary method for stopping the virus, yet this was unsustainable as it was damaging business. Then society celebrated as vaccines were created to fight the coronavirus, which has radically reduced hospital admissions yet still saw infections continue to rise within society.
Indrek then added, "it turns out that vaccines haven't been all that we hoped for. Despite the strenuous efforts of governments and healthcare institutions, people are still falling ill because new strains of the virus develop. We will only win the pandemic if we use several layers of different protections. This pandemic has shown that despite the vaccination drive, we need more protection."
Indrek then introduced Respiray's wearable air purifier that ensures people have personal protection when meeting others – like during the sTARTUp Day's matchmaking area, where everyone wore the device.
Meelis Kadaja then introduced BioBlock, the new nasal spray that works against all significant variants of coronaviruses, which the World Health Organisation considers most concerned with. Initial results demonstrate that the BioBlock solution blocks the interaction between the SARS-CoV-2 trimeric spike protein and ACE2 receptor from five different virus strains. Thus blocking the virus from entering the host cells and infecting someone.
Finally, Liis Narusk of Certific introduced their technology and testing process that allows users to take a medically certified COVID test safely in the comfort of their home. Through their unique video-recorded testing procedure, Certific verifies a person's identity, their test device, the accuracy of a sample, and lastly, the test result.
All three products are hybrid solutions that, in conjunction with face masks and vaccines, enable wider society to live with not only the COVID pandemic but other seasonal respiratory viruses.
The ultimate aim of these hybrid solutions is to ensure that businesses and society are not subject to further lockdowns, ensuring we can get on with our daily lives as much as possible.
Face-to-face meetings at business events
The Matchmaking area at the sTARTUp Day, is where investors and companies met and shared experience and did business deals. The area was powered by Veriff, and Respiray wearable air purifiers were worn to ensure everyone's health and safety within the matchmaking area.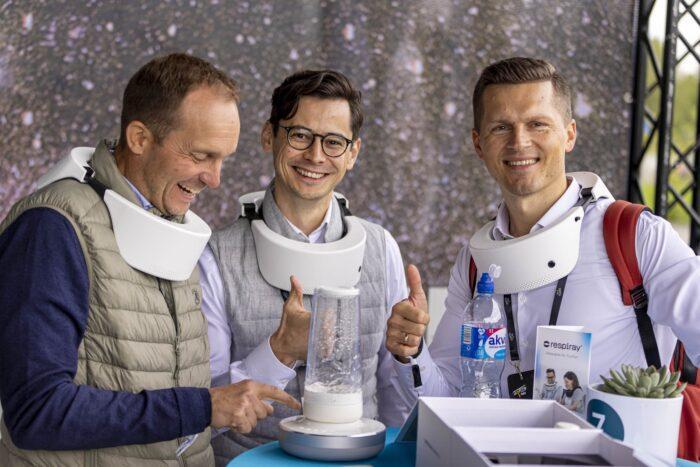 Over 690 company representatives engaged with 160 investors, forming over 1,215 face-to-face meetings!
In light of the pandemic, it was imperative that those who wanted proper face time were protected, so sTARTUp Day turned to Respiray.
During the matchmaking area, participants were assigned a table. Once fully kitted out with a Respiray device, they could begin chatting to investors and other startups.
With Respiray wearable air purifiers eliminating over 99% of viruses and bacteria with UV-C technology, all participants had to do was place one around their neck, and they were good to go! 
How event organisers can protect their attendees
Respiray was designed to protect customers and employees from being infected by airborne viruses. Whether they go or interact at an event or as a customer, they will be safe.
Respiray's technology is proving so popular that several hotel chains are implementing the technology for use at their business centres so that conferences can continue face-to-face meetings and doing business whilst protecting the attendees.
At present, businesses can buy Respiray devices for their staff and customers. Respiray is perfect for conferences and events where local and international attendees can be fully equipped and protected against the virus.
Visitors will feel reassured
Attract more businesses to host events at their venues
Standout from competitors
If you're looking to buy Respiray devices for your next event or conference, or you wish to equip your hotel with them, then contact the Respiray team here.