Looking to buy a Respiray wearable air purifier but worry if it is truly safe and effective?
As our device is unique and uses new and not yet implemented technology for wearable air purifiers, it is natural that customers have raised questions, namely:
Is UV-C safe?
Doesn't it produce ozone and other chemicals?
Why do you need Respiray if you already wear a mask?
Is Respiray safe?
Let us delve deeper into these questions and help you decide for yourself.
UV-C Health Concerns
"Isn't UV-C dangerous?"
The Respiray wearable air purifier uses UV-C light that has been used for decades to disinfect air, surfaces and water to reduce the spread of viruses and bacteria. UV-C light that doesn't reach the Earth is ultimately very effective at eliminating harmful pathogens and also it's carcinogenic.
This means that, yes, direct exposure to UV-C light is dangerous to humans. However, in our device, the UV-C light is sealed inside the device, so no UV-C light is exposed to humans.
We have very serious protective measures in place to ensure the safety of our device, including a double UV-C resistant plastic enclosure around the UV-C emitting LED.
Furthermore, to ensure your safety, we conducted rigorous tests, including drop tests, to ensure the design is robust and does not break easily.
Our two UV-C modules (securely locked inside the device) is where the disinfection occurs. The module amplifies the effect of a small amount of UV-C to produce a product that provides up to 99% disinfection.
Respiray's UV-C disinfection modules have been independently tested by the University of Tartu and the University of Lodz, where they achieved over 99%* effectiveness at inactivating different viruses and bacteria. This all means Respiray is safe to use.
Read more about the research and independent tests here.
Ozone and other chemical release concerns
"UV-C light produces ozone; is your device producing ozone?"
Absolutely not.
Whilst at some wavelengths, the energy of UV light can produce ozone, this only happens below 242 nm and this also confirmed by the European Commission. Most modern germicidal lamps are made with technology that blocks 185nm ozone-producing wavelength.
The cutting-edge LEDs in Respiray emit a very narrow range of UV-C light at 265 nm, which produces no ozone, atomic oxygen or any dangerous radicals.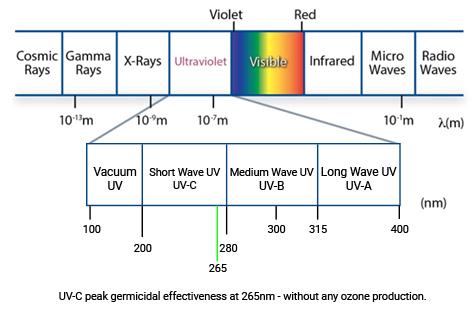 We also thoroughly measured our device with ozone meters to ensure there are no ozone emissions.
UV-C light is generally associated with UV-C mercury lamps. Some UV-C lamps cause ozone and other radicals due to multiple emitted wavelengths – this is likely what many associate the dangers of UV-C with.
We have carried out ozone tests with a laboratory affiliated with Tartu University for additional safety. The results showed no ozone production. Meaning Respiray is safe.
An additional level of protection
"I already wear a mask – why should I buy this device?"
We are ultimately responsible for our own safety.
Our device protects you, the wearer; freeing you from worry that you may have of:
inhaling contaminated air that can make you sick and put you at risk in infecting others
contributing to increased plastic use (throwing away single-use face masks)
reusing dirty and old masks
being able to breathe fresh air normally
discomfort from mask-wearing
When a person wears an ordinary face mask, they may suffer from skin irritation due to the concentration of bacteria trapped inside the mask.
Also, the discomfort that many wearers experience due to wearing masks in the first place is frustrating.
However, when wearing the Respiray device, the wearer is supplied with fresh, clean air. Wearers can breathe easily, reuse the device, and kill airborne pathogens simultaneously.
We recommend using the face shield when around others and when moving in close proximity to others. Using the provided shield gives extra protection against direct coughs and sneezes and minimises breathing in unpurified air.
By safeguarding yourself, you are indirectly protecting others.
Weighing up the benefits of UV-C disinfection
Scientists and health experts believe that a quick and effective way to prevent virus outbreaks is by using UV-C disinfection. UV-C light damages viruses and their genetic code, so they are not able to multiply, providing a superior method of disinfection.
Health authorities based their findings in part on laboratory research and the extensive history of using UV disinfection. 
It is commonly known that UV light and UV-C kill viruses directly when it comes into contact with them. These ultraviolet rays do not reach the Earth and thus viruses have not developed any resistance against it.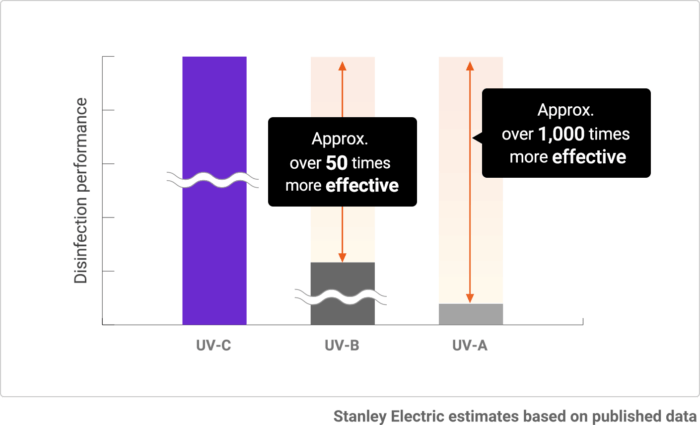 Because of this, UV-C is approximately 50 times more effective than UV-B and 1000 times more effective than UV-A in killing bacteria and viruses. The peak effectiveness of UV-C occurs at about 260-265nm wavelength and our device is using LEDs at 265nm which have the best performance at inactivating viruses.
During the pandemic, there has been an array of speculation and false claims around the use of UV light and UV disinfection. Sadly, this misinformation has unfortunately damaged the reputation of this groundbreaking science in combating this nasty pandemic.  
Therefore, faced with the challenges of COVID-19 and getting life 'back to normal,' it is time to acknowledge that UV-C technology like ours is part of the mission to bring the world back to normal.
It's very important to ask these kinds of safety questions when you're considering purchasing a product that uses UV-C technology. Make sure that the manufacturer has all the safety measures in place and check whether they have scientific proof of their effectiveness.
When we started to develop our wearable air purifier, safety was paramount. We have conducted research and tests, and have worked very closely with scientists across 3-4 universities to design a product that is social, sustainable and most importantly SAFE.
Is Respiray safe?
Yes, it is.
At Respiray, we believe in educating businesses, schools and private customers on the benefits of UV-C technology.
We're continually seeking feedback and relish the opportunity to answer people's fears about UV technology and our wearable air purifiers.
We're not going to defeat this pandemic alone. We're merely one part of combatting the virus and getting everyone back to enjoying what they did before it broke out in 2019.
Want to know more about Respiray and how it protects you against harmful pathogens? Check out the benefits of our wearable air purifier.
Stay safe with #Respiray!
**Please note: Respiray's air purifier is not a medical-grade Personal Protective Equipment (PPE), and in circumstances where medical-grade Personal Protective Equipment is recommended, you should consult a health care professional. Please remember that the use of our wearable air purifier does not replace the recommended measures to stop the spread of COVID-19. Follow the latest guidelines and rules of your local authorities and health care professionals.